Chen's Mapo Tofu Offers $10 Meals With Two-Michelin-Star Pedigree
UNDERCOVER RESTAURANT REVIEW: Chen's Mapo Tofu is a casual offshoot of the two-Michelin-star Sichuan-Japanese restaurant Shisen Hanten. And it serves cheaper, hearty grub. (A version of this story first appeared in Issue 1392, June 22, 2017.)
We've never been to Shisen Hanten, that opulent Sichuan fine-diner at Mandarin Orchard by Japanese-Chinese chef Chen Kentaro. Not even after it won two Michelin stars last year. Maybe because the sort of Chinese food we've had cooked by the Japanese always struck us as a Disney version of the real thing: sweeter, prettier and overall less gutsy with flavours. But now that the Tokyo-based chef (his dad is a famous Iron Chef in Japan) has decided to cater to the masses via Chen's Mapo Tofu, a quick-service 40-seater, we decide to give his brand of Sichuan cuisine a go. We're only human: $10 or so for a meal at a restaurant with this sort of backstory is hard to resist. Now, the only thing to manage is our expectations. We keep them as low as Donald Trump's EQ.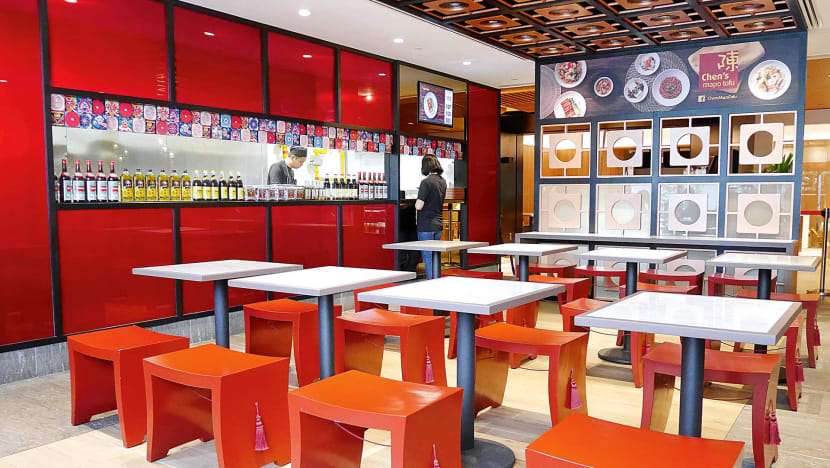 Nasu Don
THE MENU:
We hem and haw over the menu at the counter, staring at the list of rice and noodle dishes, starting from $8.80 a la carte and $9.80 as a set meal. It's like the Sichuan version of Crystal Jade Kitchen. Meanwhile, the average cost of a meal at Shisen Hanten is about $75. We pay and take a seat. Through the glass-walled kitchen, there's no sign of Japanese head chef Satoshi Yoshida, who worked at Shisen Hanten's outlets in Tokyo and Nagoya — he's off today. We pray the food is decent.
THE FOOD: The restaurant's signature Mapo Don and Pickles (see main pic, $9.80 with a refreshing cup of calamansi lime juice) is the first dish to be served. This Sichuan classic translates to mean "pockmarked old lady tofu", apparently named after the dermatologically-challenged crone who created the dish. This one looks more muted than the Chengdu variety: it's closer to brown than fiery red, and the rice slicked with a thin layer of orange oil (already plenty greasy for us) instead of drowned in a pool of grease. The soft blocks of tofu are creamy beneath its thick, savoury carpet of fine minced pork-dotted gravy that's a bit heavy on the fermented chilli bean paste and too light on numbing peppercorn. It is nevertheless quite moreish with the chewy Hitomebore rice grains from Iwate Prefecture. We're not sure we'd order this as a one-dish meal again, though. Interestingly, we'd do so for the Nasu Don ($10.80). It's almost the same as the mapo, but the tofu is replaced with attractively purple chunks of juicy, tender eggplant. Though the ingredients in the sauce are quite similar, this tastes more balanced: there's a gentle sting from the peppercorns and a more pronounced sweetness to offset the salty bean paste. It's also less greasy, so the texture of the rice here shines through better. We like.

Dan Dan Mien
But we feel no love for the
Dan Dan Mien
($8.80; dry version). The thin wheat noodles are coated in a one-note sesame and minced meat sauce that renders the strands grainy and dry.
Kaisen Katayaki
We cut our losses after a few bites and dig wholeheartedly into the Kaisen Katayaki ($12.80) instead. This is deep-fried sang mee with seafood and gravy, Japanese-style. There's a seductive toasty flavour to it and the noodles are fatter and more al dente than the Chinese variety. The crackly noodles soften luxuriously in the umami, starchy soy gravy, turning pliable enough to pick up along with springy prawns, crisp greens and Japanese fish cakes. Modest side dishes include the Braised Pork Belly Bun ($3) — the meat rimmed with wobbly fat is delish after a braise in sweet soy and sake, but we don't care for the stiff bun it's burrowed in.
Braised Pork Belly Bun
VERDICT: *** Only mildly spicy Sichuan plates with a slightly refined Japanese edge. Don't expect anything fancy despite the chef-owner's Michelin-star accolade for his swankier sibling restaurant in Orchard, because the food here is very simple. But it's all rather tasty and very easy on the wallet — good news in these uncertain economic times. $
#02-29 Downtown Gallery, 6A Shenton Way, S068815. Tel: 6221-3206. Open daily 11am-10pm. Last orders at 9.15pm. www.facebook.com/pg/chensmapotofu