Fab Wood-Fired Chicken Chop & $3.50 Joël Robuchon-Inspired Mashed Potato At Hawker Stall In Bukit Merah
Little wonder that the hawkers behind Jofa Grill used to work as chefs at Burnt Ends &
Joël
Robuchon Restaurant.
Every other month, it seems like a promising young chef leaves the orderly, gleaming world of fine-dining to venture into the uncertain but exciting chaos of hawker entrepreneurship. This time, there are two bright young chefs lured by dreams of towkay-dom. Ong Jian Lin (left in pic), 27, and Neo Jun Hao (right), 28, helm modern Western food stall Jofa Grill, in the corner of a Bukit Merah coffee shop. Lanky Jian Lin spent three years manning the oven and sauce stations at too-cool-for-school one-Michelin-starred restaurant Burnt Ends, known for its modern Aussie wood-fired cooking. 
He left as chef de partie, upgrading to a junior sous chef role at swish wood-fired steakhouse Butcher's Block in Raffles Hotel, where he worked for eight months before becoming a hawker. Meanwhile, Jun Hao also spent several years in the fine-dining circuit, including a stint as commis chef at the now-defunct three-Michelin-starred Joël Robuchon Restaurant in Resorts World Sentosa. But he has left most of the cooking at Jofa Grill to Jian Lin, choosing to focus on operations now, like he had done when he headed international expansion for "a well-known casual local Western food chain" (that he declines to name on record) as a corporate chef for a few years.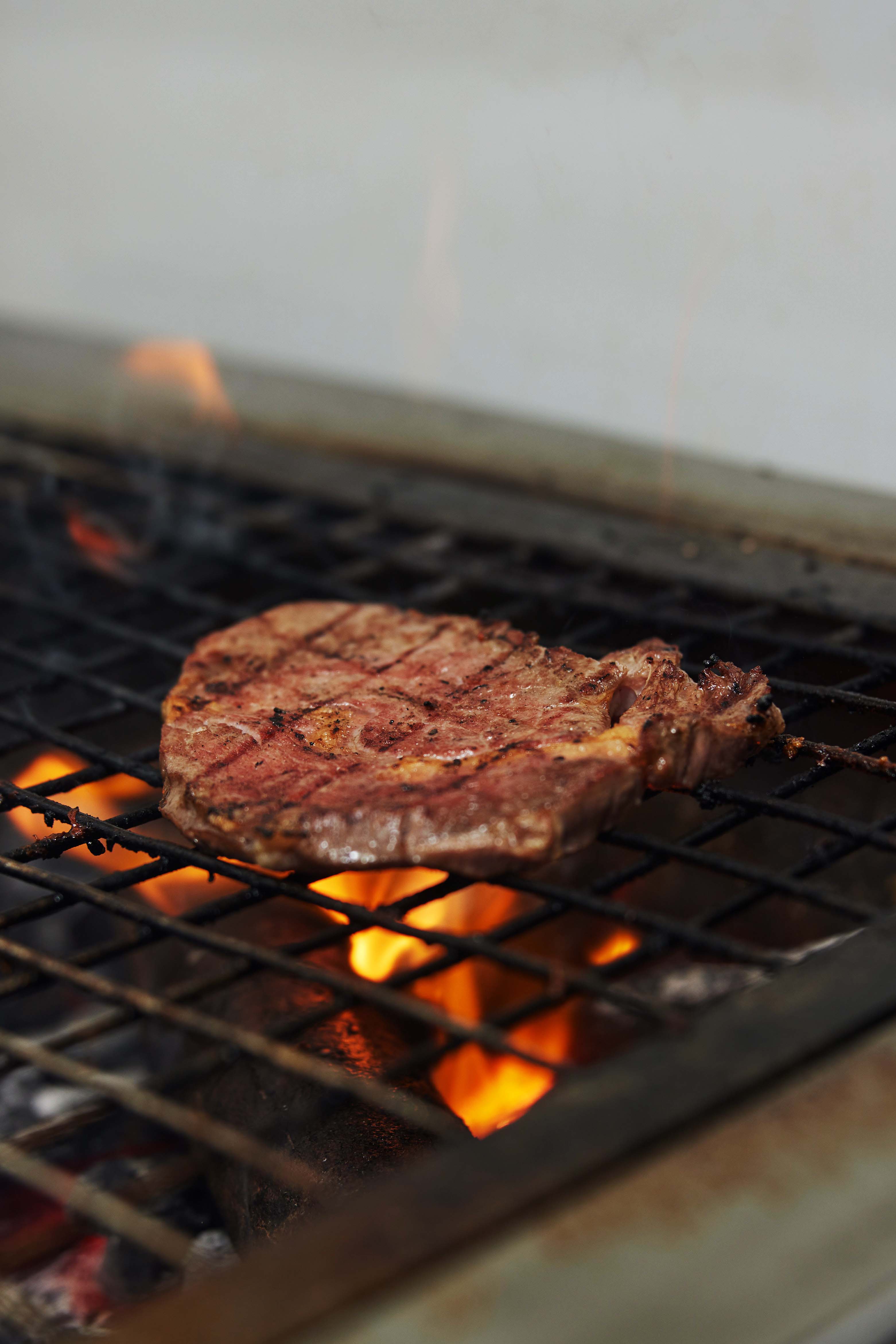 As you approach the stall with its kitschy purple-and-yellow storefront, complete with massive neon mascot of a dude in a catsuit – "like a modern zhao cai mao (fortune cat)", you'll catch a whiff of woodsy smoke which hint at the stall's offerings: chicken, pork chop and steak cooked not on the usual flat-top grill, but over a bed of charcoal and lychee wood. There's also fusion 'pasta' using, er, mee pok. Jofa Grill opens for business today (Sept 20), and 8days.sg got a preview of their nosh ahead of its official opening.
No part of this story or photos can be reproduced without permission from 8days.sg.