Ex-Pan Pacific Hotel Chef Opens Two Food Court Stalls Serving Sedap Indonesian Barbecue 
Expect Hokkaido squid bakar and chilled 'Indomie' made with pasta.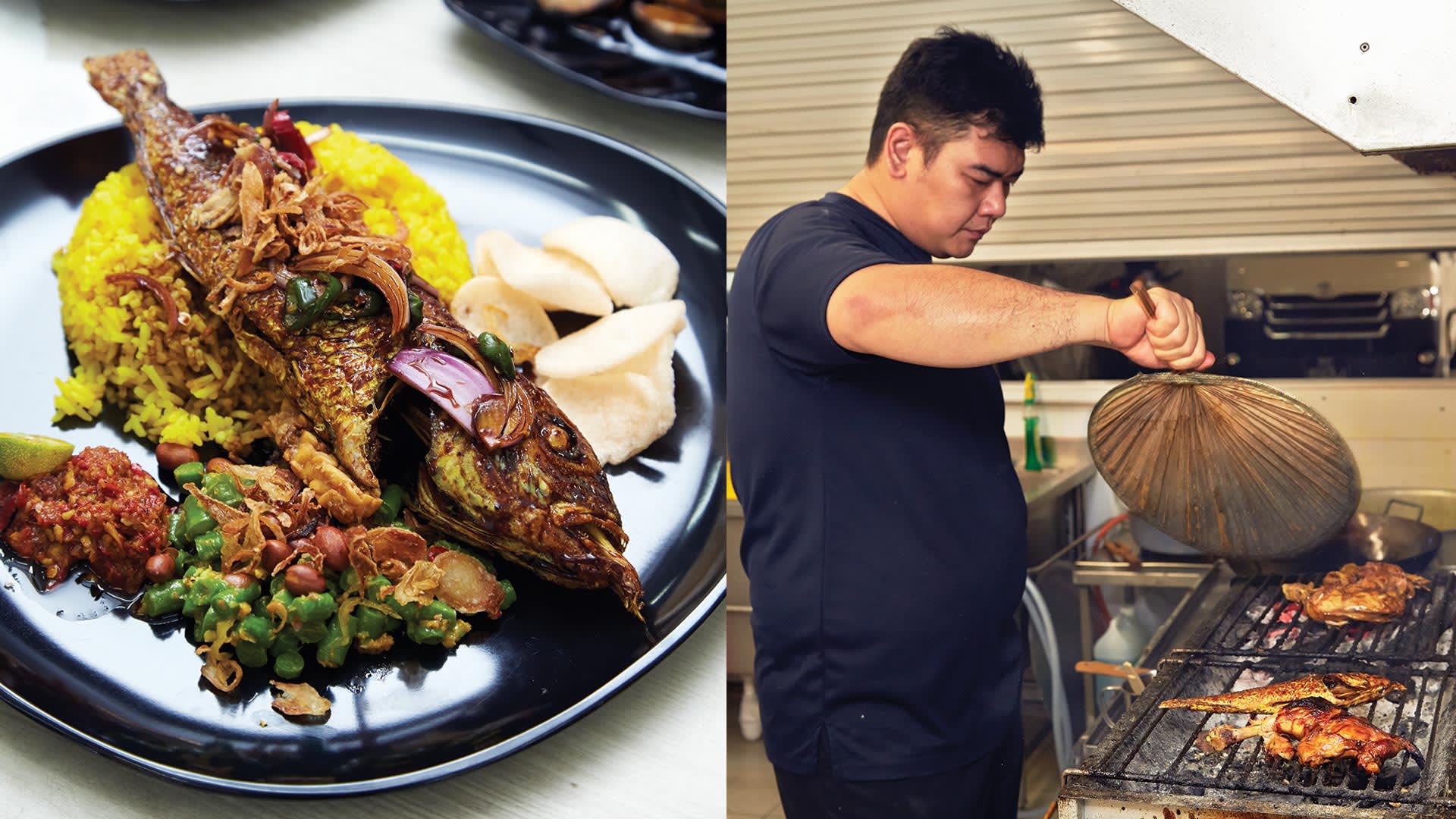 He's worked in the F&B industry for 18 years and spent the last five years as chef de cuisine in Pan Pacific Singapore and Fullerton Bay Hotel as well as, cooking mostly angmoh food in restaurants such as Edge and The Clifford Pier.

But 36-year-old Ken Zheng, who has a culinary diploma from Shatec, got tired of corporate life and decided to strike it out on his own as a hawker. He set up his first stall, Warung K at a humble Pioneer Point kopitiam in late April, selling Indonesian-style charcoal grilled meats to the people who work in the industrial area. However he has just shuttered that stall (where he said the traffic wasn't too great) so he can focus on his spanking new flagship outlet at the stylo-mylo "gastro park" at Timbre+.

Prices are about $2 more per dish at this fancier new outlet compared to his now-defunct coffeeshop branch. And though much of the original menu has been retained at this new flagship branch, there are also new dishes, such as Charcoal Smoked Duck with Steamed Pau, Chilled Indomie, Steak Bakar and Hokkaido Squid Bakar. Here, the rice in the Signature Bakar Sets has been swapped for more atas Balinese-style quinoa.
The affable chef also opened a second stall last month called Arang Indo Charcoal Grill by Warung K (see pic #10) that opened on July 1 at Koufu food court in 100AM mall in Tanjong Pagar. The stall also sells Indonesian charcoal grilled grub. He has invested about $150,000 into the business together with his partners.
While he does miss his large kitchen team he had as a hotel chef, the transition was not as tough as expected. He says: "It's not a big change going from the kitchens of hotels to being a hawker. My parents were hawkers. They sold all kinds of food ranging from kway chap, to rojak and chicken rice, and I've helped out at their stalls since young. To me, it's like going back to my roots."

He adds: "I'm happier as a hawker as I cook more here. When I was working in hotels, there were so many meetings, and more paperwork [instead of actual cooking]."

"When you run your own business, ultimately numbers do matter but it's also much more fulfilling in the end."

THE MENU: The chef decided to offer Indonesian cuisine as he heads to Bali, Manado and Raja Ampat yearly for diving trips. "I like the people, culture and food there. I ate plenty of Indon grilled meats during my trips," he shares.

GRAND PLANS: And it looks like Ken has plans to own his own food empire. He plans to open a third stall at the modern Yishun Park Hawker Centre in October. However, he hasn't decided on the concept there yet.
His dream is to grow his own brand, opening a hawker/restaurant chain to "encompass all price points. Sort of like Astons".


Warung K is at #01-27 Timbre+, 73A Ayer Raya Crescent, JTC Launchpad @ OneNorth. S139957. Tel: 9270-0770. Open daily except Sun. Mon to Sat 11am to 9pm, last orders at 9pm. www.facebook.com/Warung-K-1014731465342963/

Arang Indo Charcoal Grill is at 100AM, 100 Tras St, Level 4, Koufu, Stall 8, S079027.