Biryani Cooked By A Heavy Metal Guitarist Possibly The Best In Singapore
Word has it this Coriander Leaf chef, heavy metal guitarist and part-time biryani seller makes the best halal biryani in S'pore. (A version of this story first appeared in Issue 1346, Aug 4, 2016.)
"You're late. Fail! Fail!" chides Ahmad Zahid dramatically, criss-crossing his fingers into a hashtag sign. It's 7pm on a Friday. His young customer apologises, sheepishly scurrying away with her fragrant loot.

"Why she look so scared ah? I'm just a mat selling food at a void deck," Zahid jokes. Earlier, his other customers had included an expat, twenty-something hipsters and a guy in rumpled office wear, all looking excited as they came to claim their goods.

It's Biryani Collection hour, and we're in a HDB void deck in Aljunied Crescent, where the professional chef lives and doles out his prized biryani. The articulate, somewhat unpredictable 39-year-old's trolley is parked beside him. It's filled with plastic boxes of neatly-packed halal biryani, the spice-spiked rice-and-meat dish with origins in Persia and India.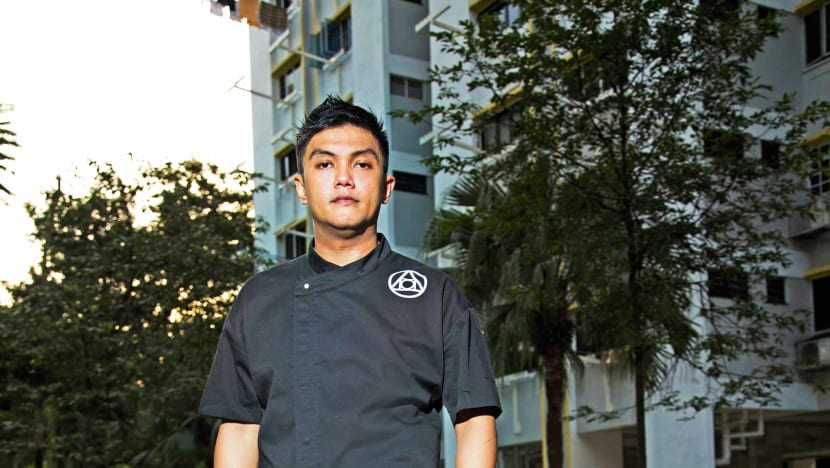 Zahid pushes a cart piled with trays of his fragrant briyani to the void deck where he distributes his biryani.
His day job is chef de partie at mod Asian restaurant Coriander Leaf. On his days off when he's "not too tired", Zahid wakes up at 4am to cook biryani. The Muslim shares, "I do this to glorify God, and to make people happy. There's no conflict of interest [with Coriander Leaf] as they don't serve biryani."
The media studies graduate from RMIT uni in Melbourne started selling biryani after a disappointing experience at a halal restaurant there. "The owner told me to come back at 6pm for a fresh batch of biryani, but when I went back, they told me it wasn't worth it to make a new batch! I was so disappointed. I want to make biryani a special occasion dish, something you have to wait and wish for."
Guitar hero: Zahid playing lead guitar in his heavy metal band Tantra.
His life outside of the kitchen is just as colourful. Before becoming a chef two years ago as he says "being in the media [which was what he studied] wasn't something I wanted to do in the long run", Zahid was a bartender at Bar Stories. He tells us, "I took up bartending to pay the bills, but I didn't drink the cocktails I made. My first love has always been cooking."
He's also in a heavy metal band called Tantra, where he plays lead guitar. Interestingly, Zahid performs with a Chinese lion dance troupe too. "Being in a lion dance troupe has always been my childhood dream, 'cos all that colour and noise from the dance performances I watched as a kid was beyond awesome! And heavy metal music has been part of my life's soundtrack ever since I could understand the emotions expressed through music," adds Zahid.

Lion dancing Malay lad: A blonde Zahid with his mates from Hoon Hong Dragon & Lion Athletic Association.
A man of varied interests… or is he just fickle? Well, this shoot almost didn't happen. Zahid initially turned down this interview before finally agreeing to be featured, but not before insisting the photo must gel with his sense of "aesthetics".

Even wanting to buy his biryani is a pain — you have to keep an eye out for his sporadic Instagram posts and collect it at a specific time. That's a lot of trouble just to tapow some rice and meat. Still, we've had carnivorous friends raving about the vegan variation of his biryani. So we had no choice but to find out what all the fuss was about.
THE BIRYANI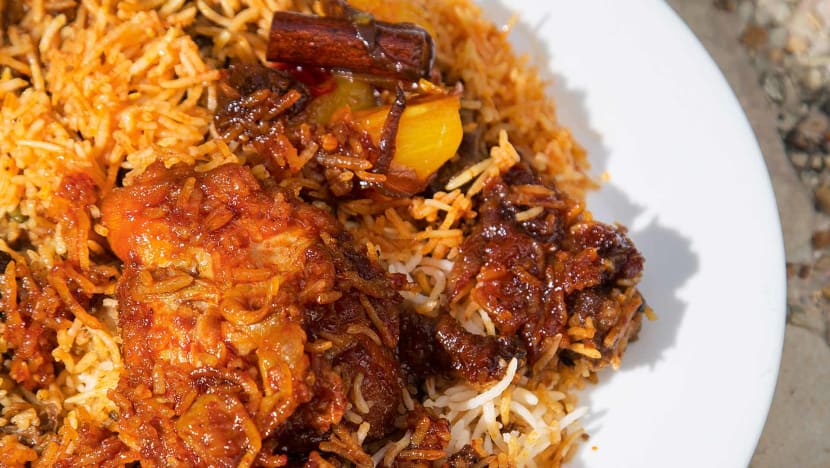 TASTE: Zahid makes only one type of biryani at a time out of five varieties, including a vegan one (no, you can't choose). On our visit, he sold the Honey Chicken Biryani ($10 a packet). This particular flavour is a unique two-meats-in-one bonus as the rice beneath already contains mutton masala. The sambal-slicked chook is cooked separately and slathered on top for added oomph.

A rich aroma wafts up when we open the packet. The chicken gravy is a deep red, staining some of the loose, long basmati grains a vivid orange. Our first mouthful is an adventure in flavour: tender chook locked in a fiery embrace with sambal, tamed slightly by the sweetness of honey. Meanwhile, the aromatic mutton chunks beneath have completely saturated the al dente rice, making it flavourful enough to eat on its own.

The slow spicy burn from the sambal only comes later, when we realise how much we've shovelled down our gobs. A side of piquant pineapple pajeri (Malay-style curry) cuts the richness. Sedap to the bone, though this robust, fiery mod Malay rendition is not your typical delicate Hyderabad-style biryani.

Sadly, Zahid won't be opening his own restaurant anytime soon ("I want to be mobile so I can go home, chill out and decide if I want to cook biryani").

Not a Black Sabbath gig poster: An announcement for Zahid's biryani sale via his Instagram account @globalmatsoulkitchen. Let's rawk!
HOW TO BUY:
You can only lay paws on Zahid's biryani by ordering via WhatsApp. You then collect the goods at Aljunied. Twice a week, Zahid posts an Instagram update (the hilariously named @globalmatsoulkitchen) with details about his upcoming biryani drop.
Given his penchant for hard rock, it's only natural that his quirky posts look more like posters for heavy metal concerts. Each post is your cue to text him with your order, fastest fingers win. He brags: "My biryani sells out in under 15 minutes. People who manage to order usually have their Instagram notifications turned on [to get my post updates]."
THE COLLECTION: Zahid fixes a one-hour time slot for customers to collect their orders below his flat. While he doesn't do deliveries, he once flew to Kuala Lumpur just to deliver 10 packets of mutton biryani. He says, "A well-to-do family paid for my flight there. If they're crazy enough to want my biryani, I'll fly over!"
To order, WhatsApp Zahid at 8550-2408.