8 Things To Expect When Song Kee Fishball Noodle Reopens At Tembeling Road Next Friday
After a brief delay due to the wait for NEA's approval, the famed herh keow (fish dumplings) and fishball noodle hawker will finally reopen at its new Joo Chiat location April 7. We get a special preview of the eatery to bring you this exclusive report.
The Chua family in front of the new Song Kee Fishball Noodle shop at Tembeling Road.
Has it only been eight months? It seems like forever since Song Kee Fishball Noodle shuttered its super popular coffeeshop at Upper Serangoon Road last July. The spot has now been taken over by the similarly named but vastly different Finest Songkee's Fishball Noodles, run by a cousin of Song Kee's owners and completely unaffiliated. But just when hope had died for hardcore fans of the stall's ethereal handmade fish dumplings after its abrupt, seemingly permanent closure, the Teochew family who runs the biz suddenly announced last month that they were reopening, this time at Tembeling Road in Joo Chiat. Have they just been toying with the delicate feelings of us herh keow-hungry fans?
"We sort of always knew we were going to reopen our shop. Maybe not at first, but since my father-in-law passed away suddenly three months ago [Chua Keok Sip founded the biz at a Toa Payoh hawker centre in 1966, and most recently had a stall in Simei, which was shut down after his death], we wanted to keep this family tradition alive," says the chatty Candy, 45, wife of Chua Poh Seng, also 45, the youngest of the three brothers who run the place. "It's just that the lease of the Serangoon shop was up, so we decided to take a break." Note: do not confuse this superlative Song Kee with the other unaffiliated Song Kee fishball stalls at Ang Mo Kio run by the brothers' sister and a Eunos stall run by a cousin. And definitely not another joint at Toa Payoh, and the shop called Finest Songkee's Fishball Noodle which sits in the same Upper Serangoon space vacated by the three brothers. The latter two are run by another cousin (yes, it's all very perplexing).
(From left) Song Kee Fishball Noodle towkays and brothers Chua Soo Chai, Chua Soo Meng and Chua Poh Seng.
So, what has the family been doing these past eight months? "Go holiday lor," says Song Kee's resident noodle chef and co-owner Chua Soo Chai, 47, aka the cool middle brother with the sexily gelled hair. His mane is shaggy instead of slickly gelled today, though. "Soon, soon!" he retorts jokingly when we asked him about his missing signature 'do. He single-handedly manned the stove at the old outlet and will continue doing the same at the Joo Chiat spot, albeit with some help (see below). The 8 DAYS makan team got a special preview of the spanking new coffeeshop, and the mood is uncharacteristically relaxed, even cheeky, since there is no relentless crush of customers waiting for their noodles and dumplings… at least until they open next Friday. "I love making herh keow," says soft-spoken, genial baby bro Chua Poh Seng, who started making the delicate dumplings at his late father's old stall since he was 21 years old. During our recent break, I sometimes made fish dumplings at home!" he adds. Even the normally surly oldest brother, Chua Soo Meng, 48, who serves the food and makes drinks, cracks a ghost of a smile. Do the brothers feel nervous about reopening after their hiatus? "Not at all," says chef Soo Chai confidently. After all, the secret to a consistently good bowl of fishball and dumpling noodles is "cooking with heart — many people just cook with their 'mouths' [by talking too much]."
Chua Soo Chai, the brother in charge of cooking at the shop, whips up bowls of fishball noodles.
2. There will now be two cooks instead of just one.
The dude tirelessly cooking the food previously at Upper Serangoon was middle brother Chua Soo Chai. He will continue to helm cooking duties at the new shop, except the brothers have also roped in their younger sister, Chua Mui Khim, 37, to cook. She had occasionally helped with the cooking at the previous shop, but will now be doing the job full-time. "We are thinking of hiring a third person to cook too," says Soo Chai. Does this mean a shorter waiting time for us impatient folk? We sure hope so.
Chua Poh Seng, the youngest of the three brothers, making the herh keow skin by hand.
herh keow-making session
for us, and boy, it was like watching a mesmerising performance that requires years of practice to perfect. "If we use a machine to make the herh keows, the skin becomes too thick and tears when the machine encounters a stray piece of fish skin or bone. The best herh keow skin can only be made by hand," Poh Seng explains. A giant sheet of herh keow skin, which makes approximately 80 dumplings, takes around 20 minutes to prep (the process is painstaking and includes repetitive rolling of minced fish meat). Filling them with pork to make dumplings requires an additional half hour. "My kids used to help me out almost every day when we were at Upper Serangoon, but now that my eldest son is in university, I let them help only on weekends," says Poh Seng. His wife, Candy, adds that their oldest child, 23, an undergrad studying engineering at NTU, can make the herh keow skin skillfully, and is sweetly eager to follow in his father's hawker footsteps when most millennials shun menial jobs. "My son says he wants to spend more time with his father, who's his idol. I'd prefer that he find an easier job, but we see how lah," Candy remarks.
Song Kee's towkay neo Candy Chua, who's the wife of herh keow maker Chua Poh Seng, runs the front of the shop.
4. There will also still be the same number of servers and old-school ordering and waiting system.
Eldest bro Chua Soo Meng and his wife, as well as Poh Seng's wife Candy (pictured above) are in charge of serving the food to customers. The waiting system is also the same as before — order, get a number tag, grab a seat and wait, and wait, and wait (the waiting time at the Serangoon branch averaged 30 minutes on good nights, and an hour on brutal ones) for your turn to be served.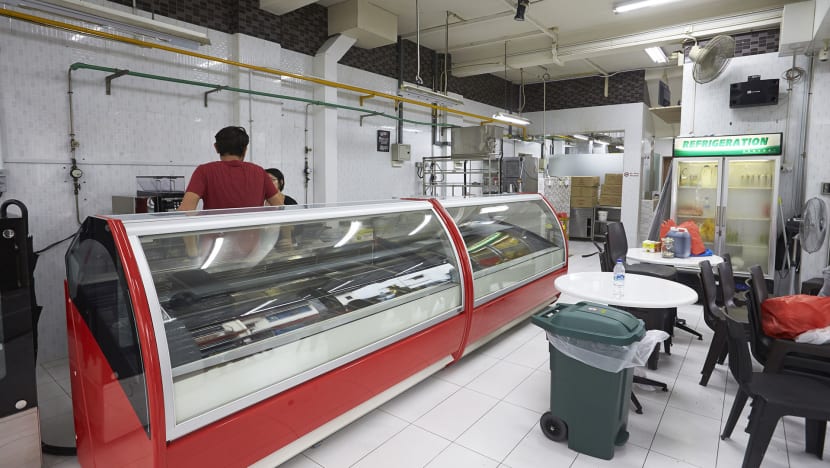 Coffee with a hipster twist from Sng Gor (which means 'ice cream' in Teochew).
6. Song Kee is now open for lunch and dinner, but no longer for supper.
While it was previously open from 6pm to about 1am, the new shop will operate from 11.30am to 9.30pm. "Staying up so late every night was taking a toll on our health, so now we are trying out daytime hours to see if it's better," laughs Poh Seng. Candy reckons that opening during the day would mean they no longer had to contend with drunk folks braying for noodles after a night of partying. "They would vomit everywhere and make a lot of noise, so hopefully we won't have that issue now," she says. But if you must have their fishball noodles for supper, there's still hope. The owners admit they are used to sleeping late. Says Poh Seng, "We are still monitoring how things go, and will adjust the opening hours accordingly."
7. Parking will be as tricky as at its old Serangoon locale.
The narrow Tembeling Road only allows parallel parking for a few vehicles. During our visit, we spotted at least two impatient drivers honking at cars blocking their way. The nearest carpark at Kuan Im Tng Temple in Joo Chiat is a good 10 to 15 minutes' walk away. But hey, consider it good exercise after gobbling so much carbs.

The new $8 bowl of fishball noodles which gets you three fishballs, three herh keows, two pork balls and two pieces of tau pok stuffed with fish paste.
Song Kee's handmade herh keow.
8. You'll get the same superb food.
We had a preview taste of the noodles here, though it wasn't quite the actual thing 'cos they 'borrowed' the chilli from a relative for this last minute shoot. Still, the standard was pretty much there and will no doubt be even better when the shop opens for real. Each bowl will cradle the same base noodles — including al dente mee pok — tossed with fragrant lard and an umami chilli mix of sambal belacan, "top quality" dried shrimp, and interestingly, a slick of inky buah keluak paste, which you can't really discern but is there to add depth and flavour. Like the old Serangoon branch, a basic bowl of noodles here starts from $4 (with three fishballs, just one slippery-skinned herh keow and none of those lovely pork-and-fish balls). But there is now an $8 version offered here, which gets you an additional two of those pork orbs, three herh keow and two fish paste-stuffed tau pok. Want more of those divine handmade fish dumplings? Pay 80 cents for every extra piece, if there's even enough available for extras, that is. A small price to pay for herh keow heaven, we say.
Song Kee Fishball Noodle is at 128 Tembeling Rd, S423638. Tel: 9336-2745. Open daily 11.30am-9.30pm.

PHOTO CREDIT: KELVIN CHIA