Rebecca Lim's Bro Baked For 48 Hours Straight To Make This Fab Pastry For Her Wedding
You can order it via the siblings' festive pastry box from an upgraded commercial kitchen where The Lims' Kitchen now operates.
Half of the fun in Christmas potlucks – though no one will admit it – is in showing off one's foodie lobangs. So how's this for the ultimate flex: arriving at a party bearing buttery bakes that featured in actress Rebecca Lim's guo da li (Chinese betrothal ceremony where the bride's and groom's families exchange gifts before the big day) pastry boxes? These came alongside Japanese herbal tea blends presented as wedding favours for the 600 guests who attended her wedding bash last month. 
The goodies are now available via The Lims' Kitchen, the family's foodie IG account-turned-home-based-biz-turned full-fledged business run by the Third Rail star, 36, and her brother Daniel, 37, who is the resident baker. He first started selling sourdough loaves in 2021 after losing his job at an investment fund management firm when the pandemic struck. Business has been good enough for Daniel to upgrade from baking at his parent's condo kitchen into a more professional commercial one just two months ago. The camera-shy Lim who declined to be photographed for this story has also employed a full-time baker to assist him.
No part of this story or photos can be reproduced without permission from 8days.sg.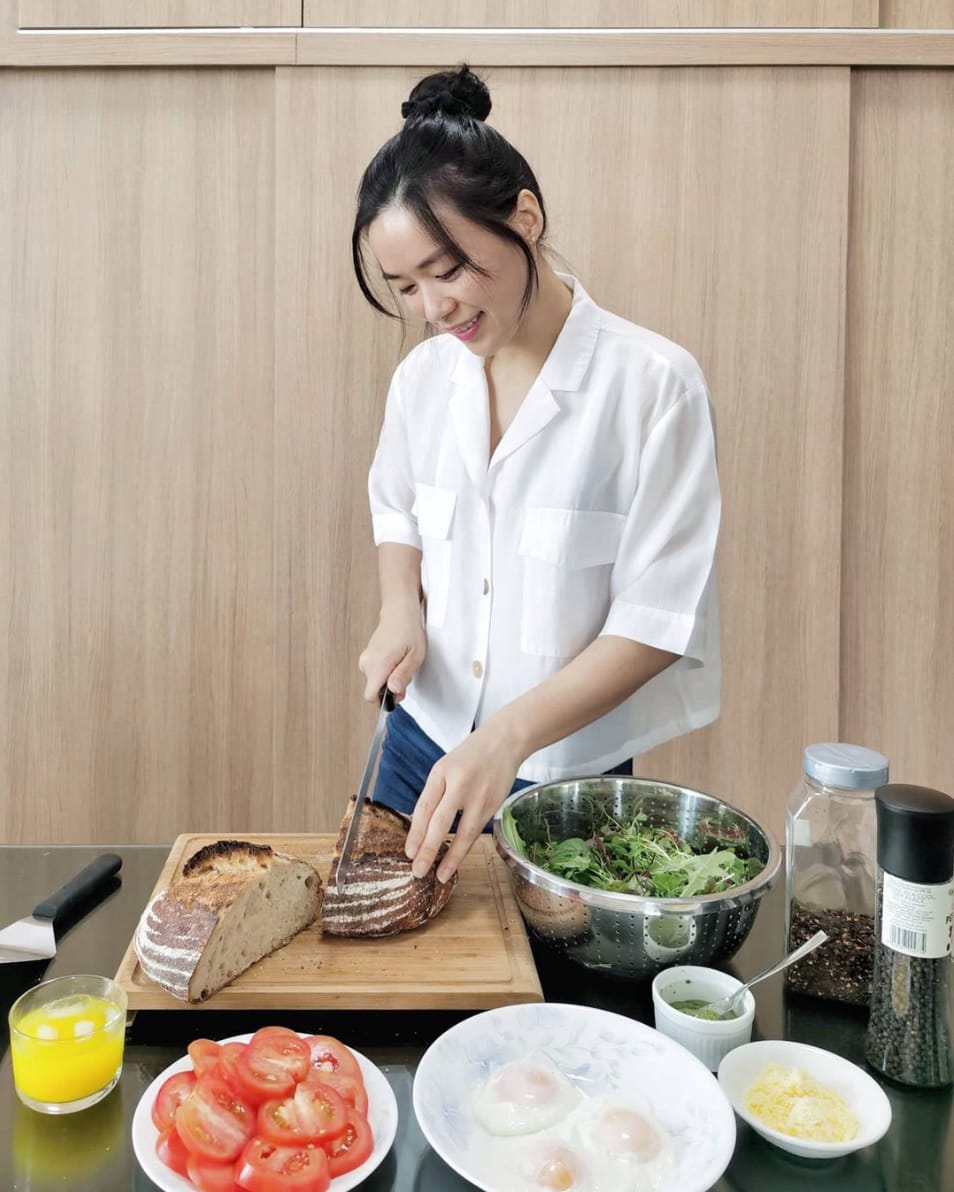 Rebecca with her niece, Ava.
Daniel tells us that "everyone in the family (Becks included) is a shareholder" in this business. He handles operations full-time with the hired baker, while Rebecca and their mum – both now armed with basic Food Safety & Hygiene certificates from the Singapore Food Agency – help with packing, admin and finances. "There's actually a lot to help with. Simple things like clearing out the trash, deliveries, packing, and so on. I also got [the SFA certification] because I wanted to be more hands-on in helping," adds Becks. "Now when I'm not around, my mum just has to help out even more. Our younger sister and her hubby help out too! So it really is a family affair."
We ask if the busy actress plans to devote more time to TLK now that it is taking off. She replies: "Perhaps. But nothing is planned for that yet. We are very new in this business and we want to grow one step at a time. My main focus is still on my career as an actor but whenever I'm needed in TLK, I'll be there. It's family you know, and family will be there for each other whenever, wherever."
The pastry gift boxes prepared by Daniel for Rebecca's guo da li.
"Took turns to sleep on kitchen floor" while baking for Rebecca's wedding
Which is why right after the chaos of setting up his new kitchen, Daniel found time to provide bakes for Rebecca's guo da li a week before her wedding – not that he had much of a say in the decision. "My brother didn't really have much of a choice lah, I just said I wanted him to do it for me (laughs)," jokes Rebecca. "I didn't want to just order from another pastry shop – it's very easily done, fuss-free. But I wanted my wedding to have a personal touch. I wanted people to feel the love that I was feeling (laughs)." The pastry boxes were gifted by Rebecca's family to her hubby's relatives outside of the usual traditional guo da li gifts exchanged between bride and groom like oranges, jewellery and more.
As it turns out, it was Daniel who actually insisted on providing the bakes for his younger sis. Two hundred boxes were distributed not just among Becks' hubby's extended family and colleagues, but also Mediacorp staff and hospital personnel (pictured below) who'd been caring for their dad, who's in poor health. "I've always looked up to her – sometimes she feels like my older sister, and I'm the younger sibling," he gushes. "I wanted to pay it back a little by doing this for her, while testing out my operations. But I was really woefully unprepared (laughs)."