Actor Chen Shucheng Opens Teochew Restaurant Serving "Hard-To-Find Traditional Dishes"
Psst, Zoe Tay, Mark Lee and Pan Lingling "made reservations for June".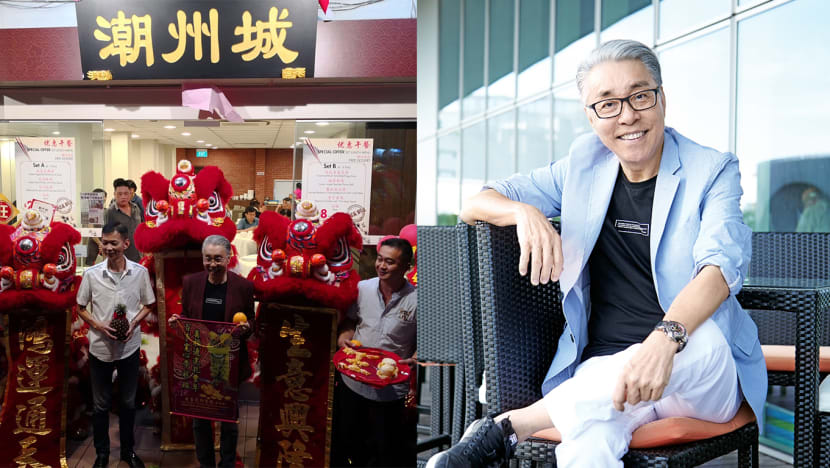 Update: Teochew City is now closed.

Chen Shucheng is a boss. And it's not just because the veteran actor, 72, still has a thriving acting career after decades in showbiz (he clinched the Evergreen Award at the Star Awards in April this year).

Over the past 20 years or so, Shucheng has been quietly investing in F&B eateries on the side. His latest venture is a Chinese restaurant called Teochew City along MacPherson Road, for which he's the ambassador and an investor.

It's co-owned by the folks behind zi char chain Ocean Seafood.

"I have been an ambassador for Ocean Seafood for the past 10 years, so when their boss consulted me on a Teochew restaurant they wanted to open, I told them I was keen on investing too. We have a good working relationship and I trust them," says Shucheng, who forked out a "high five-figure sum" for the business.

The proudly Teochew man also declares that he "loves Teochew food and often leads tour groups to Swatow [in China]".

The eatery opened recently on May 25. Interestingly, a gigantic photo of a spiffed-up Shucheng clutching his Evergreen trophy at the Star Awards decorates one restaurant wall — so it's immediately clear that you have stepped into Shucheng's Teochew City.

And Shucheng's famous pals turned up in full force at the restaurant's opening; he lists Jeanette Aw, Fann Wong, Christopher Lee, Li Nanxing, Constance Song, Rayson Tan and Wang Yuqing.

"I didn't announce to my colleagues that I was opening a restaurant," beams Shucheng modestly. "I didn't want them to feel obligated to support me or waste money sending congratulatory flowers. If the food is good, my customers and friends will naturally show up. But some [artistes] heard I had opened a restaurant and came to support me. I'm very grateful. The celebratory lion dance was still going on when they arrived, and they were like, 'Er, is it okay if we come in?' (Laughs)"

Oh, and you might just rub shoulders with Zoe Tay, Mark Lee and Pan Lingling at the restaurant soon, as Shucheng shares: "They made reservations for June."

According to Shucheng, the restaurant offers "hard-to-find traditional Teochew dishes".

Such as chilled Pig Jelly ($10 for small), aka 'pig's head dumplings', which is traditionally made with meat from a pig's head. "But it's hard to get pigs' heads in Singapore, so we modernised the dish by using minced pork instead. My mum used to buy it from the market for my family for breakfast when I was young. It's hard to find such dumplings now, except in Thailand's Teochew communities and in Swatow," he explains.

Other highlights include Teochew Braised Duck ($15 for small), Fried Liver Rolls with Five Spices ($10 for small) and Steamed Chicken in Fermented Soybean Sauce ($14 for small). There is also a selection of seafood dishes, like Red Grouper (seasonal pricing), and you can opt for your fish to be prepared in four different ways, such as steamed or pan-fried.

The head chef here used to work "at a big hotel's Chinese restaurant" which Shucheng declines to name.

Fun fact: Shucheng is also a silent co-partner in a production company, a catering company, and a chain of food court vegetarian stalls called Legendary Vegetarian. Next, he's investing in a company selling collagen jelly with veteran Ch 8 actress Huang Shaoting.

"At my age, I should be enjoying my retirement at home," he jokes, though he gleefully shares with us over WhatsApp collagen product photos he had snapped on his phone like a savvy millennial. "Not bad, right? I'm shamelessly praising myself (laughs)."

Over two decades ago, he had invested in a Chinese eatery called Yi Pin Tang with fellow veteran actor Wang Yuqing, too. "Yuqing and I were just shareholders. I invested a low five-figure sum. We started out at Amara Hotel and moved to Alexandra District Park, but the overhead costs there were too high, so we had to close the restaurant. I didn't calculate if I lost any money — I'm not the calculative sort, but I estimate it wasn't a great loss," recalls Shucheng. "If you want to 'harm' someone, just ask them to go into F&B! It's very tough. It took me over 20 years to return to F&B. I [returned to it recently] because I liked the concept idea."

But he's still chummy with Wang Yuqing. "Yuqing didn't invest in Teochew City this time. He's doing very well in his insurance career now and he's very busy — I'm afraid that he might think my business proposal isn't good enough for him! (Guffaws) But if this restaurant does well, there's definitely a chance that we might go into business together again."

Teochew City is at 540 MacPherson Rd, S368223. Tel: 6744-5009. Open daily 11.30am-2.30pm; 5.30pm-10.30pm.